Sarawak's business events regain RM291.2 million total economic impact in 2020
&nbspFriday, December 18, 2020&nbsp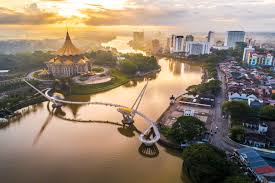 Sarawak's business events industry received the highest of praises by the Sarawak Government after the industry's 2020 performance was revealed at Business Events Sarawak's (BESarawak) annual appreciation event. The annual gathering, which strictly complied to the stipulated standard operating procedures, was attended by YB Datuk Abdul Karim Rahman Hamzah (Sarawak's
Minister of Tourism, Art & Culture and Minister of Youth & Sports), YB Datuk Sebastian Ting (Assistant Minister of Tourism. Arts, and Culture Sarawak) and other government dignitaries who applauded at the rapid actions taken by the bureau alongside industry partners to bridge the gap between struggling business event planners and stunted business events.
"Sarawak's initial performance was jeopardised due to the COVID-19 pandemic, as the Minister revealed that "the industry suffered a total economic loss of RM196.64 million this year which includes total estimated direct delegate expenditure loss of RM106.87 million and 15,606 less new job placements generated by business events in 2020."
However, Sarawak was able to regain momentum once more thanks to the Business Event Planners Incentivised Packages, which has contributed to an estimated total economic impact of RM291.2 million and a direct delegate expenditure of RM158.2 million from 80 secured events to take place between 2021 and 2026. Within these years at least 23,113 job placements will be created by business events.
"Besides the economic impact, we are breathing new life into our business events sector," the Minister continued. From 2021 onwards, the Sarawak Government is aiming to maximise the impact of business events and power of investment by harvesting convention legacies under BESarawak's legacy impact movement. This is aligned with the Sarawak Economic Action Council's placement of business events as the driving force to achieve economic prosperity and social inclusion, and conserve Sarawak's heritage and biodiversity among other aspirations.
BESarawak's Deputy Chairman, Datuk Abang Karim Tun Abang Haji Openg, also took the opportunity to highlight 4 BESarawak members receiving their 10 years' service award; 3 members receiving the BESarawak Excellence Performance
Awards and 17 members who have received world-class certifications on a national and international level. "The pandemic has not hindered anyone from reaching the stars. In fact, BESarawak has proven that despite adversities, we continue to move from strength to strength against the odds. As we celebrate the professional and educational successes of team members, I am also taking this opportunity to thank our valued industry partners and stakeholders of Sarawak's Business Events sector for their unwavering support and good faith in all our endeavours. This many achievements and milestones this year would not have been possible without your encouragement".