Hotel Bellevue and Vitality Hotel Punta announce World Spa Awards 2023 nominations
&nbspThursday, July 13, 2023&nbsp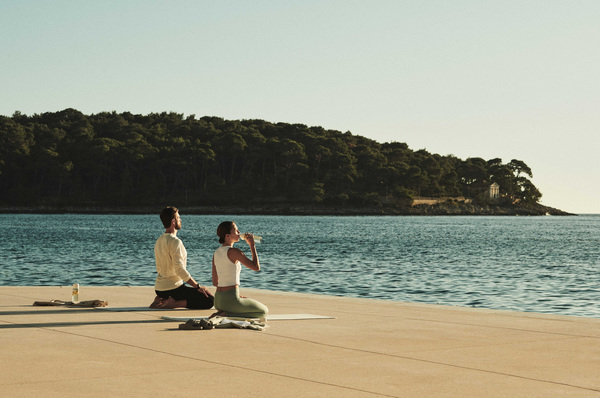 Lošinj Hotels & Villas is proud to announce that the spas at Hotel Bellevue and Vitality Hotel Punta have been nominated for World Spa Awards this year!
After it was named Croatia's Best Hotel Spa in 2022 and the World's Best Hotel Spa in 2021 by the World Spa Awards, the praise continues for the five-star Hotel Bellevue and its celebrated Bellevue Spa Clinic. Regarded as "the most heavenly and healing place on the planet" by esteemed English author and journalist Bryony Gordon, the world-class resort and its stylish lifestyle spa, just steps from the healing turquoise waters of Čikat Bay, has not only been nominated for Croatia's Best Hotel Spa 2023 but also the World's Best Detox Programme.
Its signature Sea-Tox Program is an immersive detox that uses the purification properties of Lošinj's seawater to promote the body's self-cleansing process through detoxifying foods, movement-driven activities, and targeted spa treatments. Using state-of-the-art medical technology, it deeply cleanses the body, balances hormones, alleviates inflammation, activates cellular regeneration, slows oxidative stress, and increases energy. Bellevue Spa Clinic offers a complete wellness experience using the cleansing and detoxifying properties of Lošinj's sea. An array of one-of-a-kind experiences are supported by some of the world's best spa brands to deliver transformational results in a stunning five-star setting.
"What makes a Spa exceptional? I found the answer to that question at the Hotel Bellevue and Boutique Hotel Alhambra in Lošinj. If you combine the treatments delivered by the hands of expert angels in a stunningly designed space and apply locally crafted aromatic artisan products, cultivated specifically for you, you come out feeling like an entirely different human being, who has been reset to face the world once more. Can't wait to go back," praised British actress and comedian Nina Wadia OBE, further confirming Bellevue's nominations this year.
Vitality Hotel Punta is already known as a playground of revitalisation on the island of Lošinj, so it's no surprise that its Vitality Center & Spa has been nominated as Croatia's Best Wellness Retreat in 2023 after winning the World Spa Awards in the same category last year. Vitality Center & Spa combines wellness innovation and medical expertise with leading sports and leisure facilities using the island's healing climatic elements and unspoiled nature. Treatments focus on breath and respiratory recovery, taking full advantage of the healing saline air, plant essential oils, and sea plankton. Its award-winning 'Space to Breathe' program is an immersive retreat encompassing outdoor activities, spa treatments, and fitness. This certified allergy-friendly resort also offers professional tennis facilities, Pilates, yoga, water sports, and an impressive state-of-the-art gym.
World Spa Awards celebrate and reward excellence in spa and wellness tourism through an annual awards program to inspire exceptional standards and connect spa consumers with the best in spa and wellness tourism.