Sarawak will host Asia Pacific Regional Hub for ICCA Congress 2020
&nbspFriday, September 4, 2020&nbsp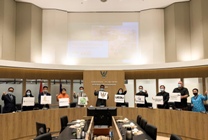 Sarawak has thrust its status once more as an international business events destination after winning the bid against Seoul, South Korea to be the Asia Pacific host of the Regional Hubs ICCA (International Congress and Convention Association) Congress 2020. In total, there are seven Regional Hubs, two of which are virtual, complementing the Global Congress in Kaohsiung.
With the reopening of Sarawak's business events (BE) industry in July this year, this win is momentous news for Sarawak's business events industry. The hybrid Regional Hub Congress – to run simultaneously with the main ICCA Congress 2020 at Kaohsiung, Taiwan – will converge association executives, local and national industry professionals and ICCA members in Kuching on a 6-day educational, networking and business escapade to share the latest developments and innovations within the world's business and travel sector affected by covid-19 pandemic.
The Sarawak Asia Pacific Regional Hub ICCA Congress 2020 will be themed 'ICCA Tribe Legacy' and will focus on the broader value of conventions, often missed, which goes beyond direct delegate expenditure. This theme carries on and expands
from the earlier theme "ICCA Global Tribes" in 2016.
Sarawak is no stranger to hosting world renowned international conventions. Back in 2016, the State was lauded for hosting the much-talked-about 55th ICCA Congress which capped the milestone for Sarawak's journey to grow into one of the world's premier 2nd-tier destinations. While the upcoming hybrid Congress marks another milestone for Sarawak, it will also pave the way for more robust regional and national collaborations with a pathway for players in Malaysia to lead the region's business events industry.
"With the Sarawak Economic Action Council's focus on this broader value, which leverages on the 'soft power' from hosting conventions, Sarawak is in the midst of consolidating preparations for the implementation of our all-new "Tribe Legacy Sarawak" programme that will be adopted from 2021 onwards. This will provide a ground-breaking take on evaluating the contributions of business events from a Malaysian perspective to promote a healthy balance between social inclusivity, environmental sustainability and economic prosperity." remarked Minister of Tourism, Arts and Culture and Minister of Youth and Sports, Datuk Haji Abdul Karim Rahman Hamzah.
"Sarawak is therefore delighted that we will have the opportunity to share with fellow Congress participants our wider perspective that conventions bring both economic and long-term legacy impacts. Sarawak is proud to be one of the world's leaders in this conviction. Legacy building is a "win-win" for the local host organisations, professional sectors, government entities and the society at large. In short, everyone benefits from convention legacies."
Legacy building from conventions is the core education topic for this year's regional hub congress, aligning itself with the global business events industry's direction "This is at the very heart of why we do, what we do." said Amelia Roziman, Acting CEO of BESarawak. "We want to amplify awareness and advocate the power of business events legacies through our educational sessions which will be led by Malaysian and international presenters.
"Having a legacy vision, planning with purpose, an active implementation process followed by monitoring and measurement will illustrate the often-unrecognised, intangible benefits of hosting conventions." She further added that legacies from conventions, harnessed in tandem with the supplier community, local host organisations which include associations, and with the support and conviction of the government can turn every business event into a tank that achieves key objectives. "This truly aligns with the ICCA Congress main theme "Transforming Together", Amelia quipped.
"Although the Sarawak business events industry has suffered setbacks brought on by COVID-19 pandemic, we remain steadfast to our social responsibility commitments and will continue with our focus on Sarawak's communities through an extension of our 2016 Book Share programme, driven by the Librarians Association of Malaysia Sarawak Chapter, and first introduced at the ICCA Congress four years ago. Participants to this year's hybrid Congress are encouraged to bring a book or two with them as their personal legacy for Sarawak rural libraries and schools", said Amelia.
ICCA's CEO Senthil Gopinath, used the previous ICCA Congress in 2016 as a benchmark to why Sarawak was chosen, "This year's Congress is the first Global hybrid experience that ICCA will host and we're excited to be able to offer delegates the opportunity to join from a regional hub. BESarawak, a long-standing member of ICCA, was selected as our Asia Pacific regional hub host because of their commitment and creativity, clearly evidenced when the destination hosted one of the memorable congresses of ICCA."
The Sarawak Asia Pacific Regional Hub ICCA Congress 2020 will take place from 31st October until 5th November 2020 at the Borneo Convention Centre Kuching (BCCK) with BESarawak as the local host and organiser.
The Congress is endorsed by the Ministry of Tourism, Arts and Culture Sarawak (MTAC), Malaysia Convention & Exhibition Bureau (MyCEB) and Penang Convention & Exhibition Bureau (PCEB), ICCA Malaysia Committee and Sarawak's business events industry partners.
Tags: calendar of events, department of natural resources, fall color updates, farm markets, Festivals, forests, getaway, information hub, itinerary builder, ohio department of natural resources, sample itineraries, scoop, state parks, waterways