New convention hotel to be constructed at Frankfurt Airport
&nbspTuesday, March 3, 2020&nbsp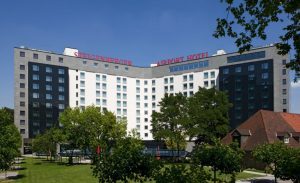 Germany's luxury hotel company Steigenberger Hotels AG – Deutsche Hospitality and property developer Grob & Partner recently signed an agreement to build one of Germany's biggest convention hotels situated within the area of Frankfurt Airport. The Steigenberger Kongress Hotel Frankfurt Airport will be the latest addition to Frankfurt's newest quarter Gateway Gardens.
The groundbreaking ceremony of the hotel will take place in 2021 and the hotel is scheduled to officially launch in the year 2024.
The Steigenberger Kongress Hotel Frankfurt Airport will be an 18 storey building and provide accommodation of 527 rooms and suites. The hotel will also have a Conference Centre with an area of 5,500 square metres. It is perfectly suited to function as a convention centre and meeting space. The floor space of the hotel is nearly 34,000 square metres and the height of the building will go up to 70 metres in the sky.
The convention area will feature a conference hall with space of 2,300 square metres. The hall will be flexible in nature and can be divided easily. It will be capable to accommodate approximately 3,000 people. The height of the room will be around 6.5 metres. There is also a separate ground lobby ideal for hosting various events. In addition, the hotel will feature a health and beauty spa on the 18th floor of the North Tower and a Skybar on the South Tower. While the former will offer striking views of Frankfurt's Skyline and City Forest, the latter will provide amazing sights over the airport apron.
The responsibility of construction has been undertaken by Grob & Partner and Dusseldorf-based company HPP-Architekten will be working with the designing.
The hotel will be located at an international transport hub and stand at the heart of Europe. It will also be situated in front of Gateway Garden's own station on the Frankfurt suburban railway network.