Meet and Greet at Slovenian city Kranj
&nbspMonday, June 26, 2023&nbsp
Kranj is the fourth largest city of Slovenia and is recognised as an industrial city.
Over the years, Kranj developed itself into an ideal destination for MICE and leisure tourism in the country after battling some grave crisis like the plague pandemic and the annexation of Nazi Germany.
Brdo Congress Centre
Considered to be one of the best conference centres in Southeast Europe, the Brdo Congress Centre has a total area of 9000 sq. m. and is located within the Brdo Estate in Kranj. The conference centre is divided into four conference halls and five meeting rooms. The venue is ideally suited to host a range of business events such as meetings, conventions, conferences, seminars, trainings, presentations as well as personal events like weddings, celebrations, dinner parties and cultural programs. The conference halls come in different sizes and can be provided according to the requirement of the organisers. It is equipped with all modern technologies essential for business events and can accommodate up to 550 people. The centre also provides a separate exhibition space in the lobby for exhibitors, sponsors and organisers to present themselves. In addition, it also offers a registration desk and cocktail bar with booths that can be availed to provide refreshments during an event.

Kovacnica
Kovacnica is a unique coworking and meeting space, ideal for hosting small meetings and events. The venue consists of a lecture room that can accommodate up to 40 people and can organise various events, meetings, seminars and trainings among others. It is also equipped with projectors and complimentary internet services and comes with a modern open space. The venue also has a separate smaller office space alongside two free lecture rooms that can be rented for two hours. Guests also have the facility of renting a single or common working table to organise their businesses in a friendly and working environment. It also has its own kitchen and parking space. Kovacnica has hosted more than 260 events and 4684 attendees so far and is only 5 minutes' walk away from the downtown Kranj.
Hotel Azul
Positioned in the biggest commercial centre of Kranj, the four-star hotel is recognised for its convenient location and exemplary services. It features a range of luxurious superior and standard rooms equipped with the most contemporary accommodation facilities. The hotel is also surrounded by a panoramic landscape and provides some of the most striking views of the surrounding mountains. It also has its own conference centre that offers around seven meetings rooms with a total area of 506 sq. ft. The meeting rooms are ideal for hosting business events like conventions, conferences, meetings, seminars, trainings, lectures as well as private events like weddings and banquets. The hotel is experienced in hosting various private and public events including government meetings.

Hotel Creina
Located at the heart of the city of Kranj in the historical, cultural and sports centre of Gorenjska, Hotel Creina is the perfect accommodation space for both business and leisure travellers. The hotel offers around 87 living rooms and provides relaxation as well as business opportunities. The property comes with its own congress hall, ideally suited to hold public and private gatherings. It can be used to organise meetings, conferences, conventions and business events. The hotel also has a signature café and a restaurant serving some of the finest delicacies from the region.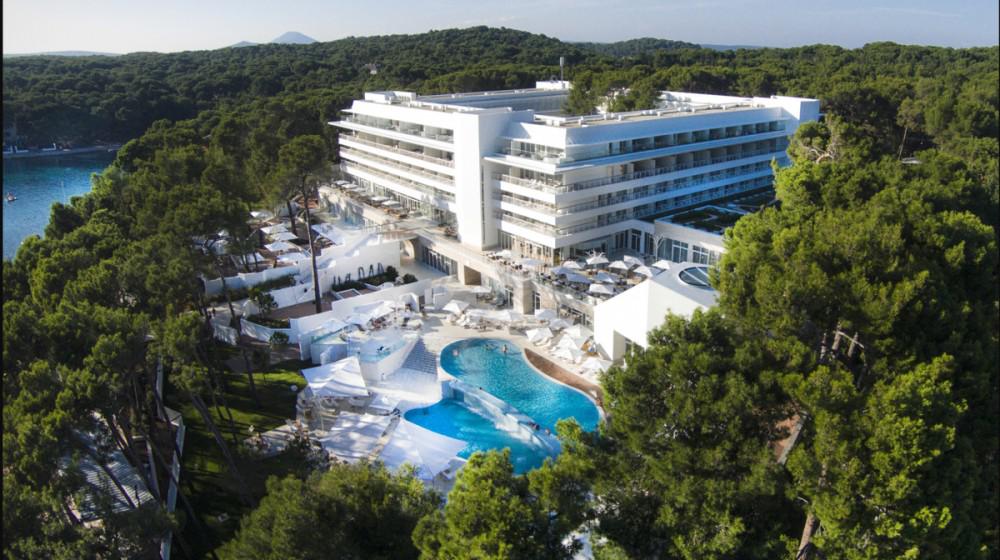 Hotel Bellevue
Placed atop the beautiful hill of St. Margaret above the city of Kranj, the three-star hotel is an amalgamation of comfortable accommodation, aesthetic living and in-house meeting space. It provides 15 double rooms, 3 single rooms and 2 special rooms equipped with water beds. All the rooms have modern state-of-the-art facilities and are surrounded by abundant scenic beauty. The hotel also features a contemporary meeting centre with three halls that can host up to 150 guests. In addition, it has its own restaurant that can also be transformed into a 200-seat conference venue if required by the guests. It is ideal for living as well as organising meetings and business events amid the lap of nature.