Indian Prime Minister inaugurates a convention centre at New Delhi
&nbspWednesday, July 26, 2023&nbsp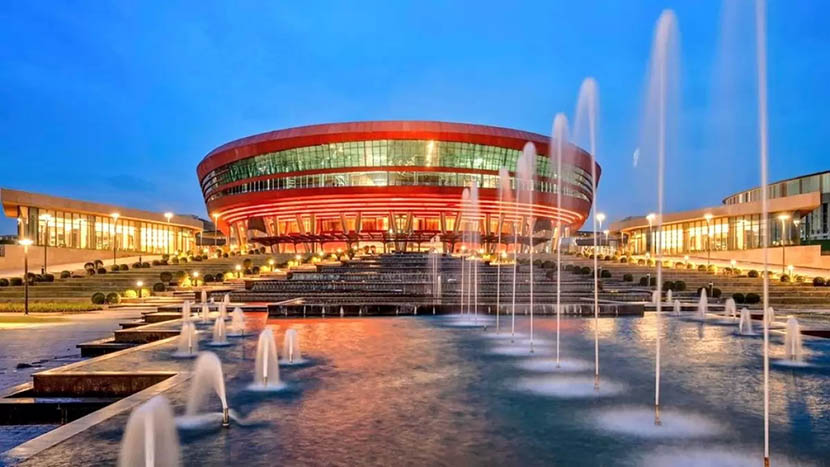 Prime Minister Narendra Modi participated in a havan at the inauguration of India's newest landmark, the International Exhibition-cum-Convention Centre (IECC) at Pragati Maidan. The grand venue will play host to the prestigious G20 Summit in September, making it a significant addition to the country's infrastructure. Cabinet members and construction workers who contributed to the project were present during the morning ritual, where the Prime Minister honored and celebrated their efforts with a group photograph.
Later in the day, PM Modi delivered a momentous speech at the formal inauguration ceremony, where he also unveiled a commemorative coin and stamp to mark India's G20 presidency. Situated within the sprawling 123-acre Pragati Maidan complex, the IECC is India's largest convention and exhibition venue, boasting multi-purpose and plenary halls capable of accommodating 7,000 people.
Constructed at an approximate cost of Rs. 2,700 crore, the IECC flaunts impressive features, including a 3,000-capacity amphitheater and parking space for 5,500 cars. The state-of-the-art facility is designed to cater to various events and exhibitions, bolstering India's position as a global player in trade, commerce, and culture.
Development on the IECC site commenced in 2017, with the India Trade Promotion Organisation leading the project. In preparation for this modern marvel, existing structures, including the iconic Hall of Nations, were carefully demolished, paving the way for a world-class venue symbolizing India's commitment to hosting international events of unparalleled scale and importance.